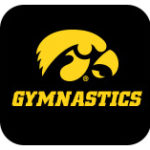 Lang
1/13/21
The 25th-ranked Iowa women's gymnastics team has been picked to finish fourth in the Big Ten Women's Gymnastics Preseason Poll in a vote of the league's 10 head coaches. That was announced Wednesday by the Big Ten office.
Michigan was voted as the preseason favorite, followed by Minnesota and Nebraska. Following the Hawkeyes, Illinois rounded out the top five.
Two Hawkeye underclassmen – sophomore JerQuavia Henderson and freshman Adeline Kenlin – were named to the Big Ten Gymnasts to Watch List. It is the second straight year Henderson has been named to the Watch List. Kenlin is from Iowa City and graduated from West Branch high school.
Iowa opens its season Friday, facing No. 11 Minnesota at 3:30 p.m. (CT) in Minneapolis. The meet will air live on BTN.