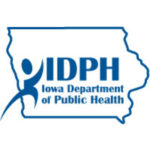 Hunter
01/13/21
The Iowa Department of Public Health announced Tuesday that the second phase of coronavirus vaccines will roll out no later than the first of February.
In a release from the IDPH, they said they've been allocated 226,000 doses of the vaccine, but need approximately 300,000 to 400,000 doses to complete Phase 1A, which includes health care workers, residents and staff at long-term care facilities.
Phase 1B focuses on those who are 75 and older, as well as other high risk populations. It includes individuals with disabilities in home settings, correctional facilities, other congregate settings and meatpacking plant workers.
IDPH says that it will take "several weeks" to complete Phase 1B. However, the timeline may change. The federal government announced Tuesday an increased availability of the vaccine based on each state's ability to distribute the supply quickly. In the meantime, the department urges Iowans to continue mitigation efforts to slow the spread of COVID-19.