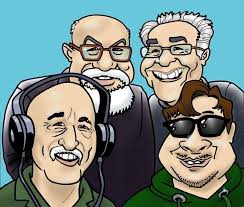 Captain Steve & Jim Hunter
MONDAY to FRIDAY -- 05:00 AM - 11:00 AM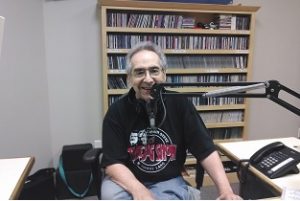 Weekdays 5-11a
"Captain" Steve Bridges began his prodigious radio career in 1965 at the age of 15. He worked part-time at various stations in Iowa until 1969 when he acquired his show at KSTT in Davenport as Steve "Ain't No Other Brother" Bridges.  Steve stayed at KSTT until June 1972 when he moved to KXEL AM & FM in Waterloo to take on the duties of Program Director. Steve converted KXEL-FM into a Top 40 station. He then moved on to become the Operations Manager at KLEU-AM which signed on in Waterloo in 1973 but was later sold in the same year.
In June of 1973, Steve became Program Director at KWPC-AM and KFMH-FM in Muscatine. Steve changed KWPC to a country format and moved KFMH to a progressive rock format. Also, in the early 80's Steve worked weekends at KJJY in Des Moines.  In 1982 Steve was named one of the ten best small market radio personalities of the year by the Hard Report.  In January of 1990, Steve purchased minority ownership of KFMH aka 99plus. That same year, Steve shared a cover story with Howard Stern in Broadcasting magazine. In March of 1994, KFMH was sold, and Steve (by then known as Captain Steve) purchased KCJJ-AM in Iowa City. Steve took KCJJ from the bottom of the market to the top of the market in a matter of a few short years.  In March of 2013 after being off the air for 19 years, Steve revived KFMH as an internet-only radio station – 99pluskfmh.com – with original deejays.
---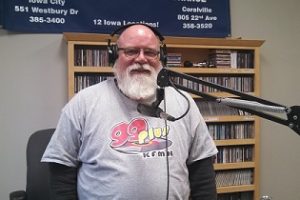 Jim Hunter is our Morning Show Co-Host at the Mighty 1630, he's very familiar to Captain Steve. He worked at the original KFMH from 1990 to its unceremonious demise in 1994, the last 3 years as the Captain's morning show co-host. He spent another 12 years in radio until being unceremoniously downsized in 2007. Now he's back, laughing the mornings away with the Captain. With four grown daughters, five grandkids and two ex wives, he vows that his relationship status is "retired." His continuing love for his family, music, reading, the Cubs, Packers and Hawkeyes occupy most of his time now days. Oh, and he still continues to feed his DJ muse afternoons on the new 99pluskfmh.com from 1-6pm.