MONDAY to FRIDAY -- 11:00 AM - 01:00 PM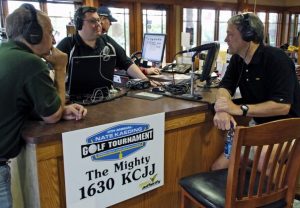 Tommy is a lifelong Iowa City resident who can currently be heard as the host of "Hey, Lang!", which can be heard weekdays from 11am-1pm. He is also the voice of the KCJJ Police Reports every morning.
Tommy started his radio career in 1990 at the University of Iowa student radio station, KRUI. He worked briefly at KCJJ from 1991-1993 before moving on to KRNA in Iowa City and later Cedar Rapids. After that station was sold to Cumulus Broadcasting Tommy was part of a purge that led to his return to KCJJ in 2005, where he served as News Director until his liver transplant in 2015. Tommy returned later that year as host of "Hey, Lang!"
Tommy can also occasionally be heard as the fill-in public address voice of the Iowa Hawkeye baseball team and Cedar Rapids Roughriders hockey team. He was also a club DJ at The Union Bar in downtown Iowa City in a former life.