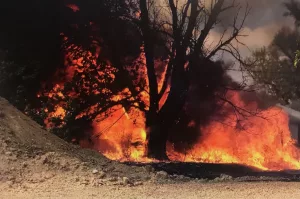 (Courtesy of CRFD Facebook page)
CRPD Release
09/18/23
Firefighters from Fairfax and Cedar Rapids responded Sunday afternoon to a fire in the 7500 block of 16th Ave SW at approximately 12:07 pm.  Crews from both departments arrived to a farming residence to find a corn bin and barn fully involved.  Unable to preserve the two buildings already on fire, crews assumed a defensive posture to save other nearby structures.  Once those structures were protected, teams turned their attention to the sizable blaze and began fighting it from multiple positions.  Flames were quickly brought under control, but the corn bin and barn are a total loss.
There were no residents home when the fire started.  No firefighter injuries were reported.  Fairfax Fire was the lead agency on-scene, and assisted by Cedar Rapids Fire, Cedar Rapids Police, Linn County Sheriff's Office and Iowa State Patrol.
The cause of the fire is under investigation.